How To: Find Your Grid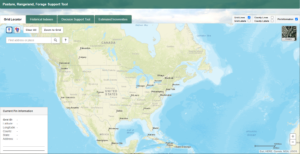 One of the many wondrous benefits of partnering with AgRisk Advisors is having access to excellent resources and technology. We send you weekly weather reports, interval reports, and much more. Specifically – we show you how to access the USDA RMA Pasture Rangeland Forage support tool. This tool allows you to find your grid, look up your grid's history, provide a decision support tool and provide an indemnity estimator. To use this simple tool – follow the link listed below, select the "Grid Locator" tab, enter your address, and it will locate your grid!
Within AgRisk Advisors, we use this tool to track your rainfall index for PRF and AF Policies which identify rainfall location that drives policy indemnity. As a customer or producer, you can use this tool to discern your rainfall accurately and check historical rainfall data in previous years. In addition, the RMA uses this grid system in conjunction with the four most near weather stations to dictate the average precipitation in the area.
Link through PRFAdvisors website: (scroll to bottom)
https://prfadvisors.com/resources/
Link to USDA:
https://prodwebnlb.rma.usda.gov/apps/prf
Be sure to follow our social profiles!
View all News & Event