How To: Pasture, Rangeland, Forage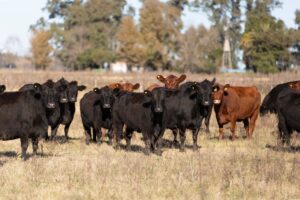 Pasture, Rangeland, Forage insurance is designed to help protect your operation from the risks of forage losses produced for grazing or haying resulting in increased costs for feed. Simply put, the Pasture, Rangeland, Forage program offsets the cost of additional feed expenses in times of low precipitation. With Pasture, Rangeland, Forage, you can protect up to 90% of average rainfall on grass and hay land. No need to submit a loss claim or notify your agent of a claim. Another benefit of partnering with AgRisk Advisors, we offer to create customized plans that fit your specific operation!
Rainfall Index (RI)
The Rainfall Index (RI) insurance plan is a risk management tool. It insures against a decline in an index value based on the long-term historical average precipitation. The size approximates about a 12×12-mile grid over specific two-month time intervals.
A minimum of two index intervals must be selected for acreage insured under the RI plan. The insured selects which index intervals to cover and the amount of coverage. The selection of index intervals is critical to the effectiveness of the RI plan as a risk management tool. Coverage is based on indexes for the grid, not the producer's actual rainfall.
Lack of precipitation can impact the growth of your forage. PRF insurance is straightforward!
How do you choose the proper interval?
You and your Insurance Agent will determine the intervals that are most likely to impact your forage. Then, you can select the riskiest period of your operation. For instance, if precipitation in January is vital to your forage growth and January returns below-average rainfall, PRF Insurance could trigger a loss.
Will your crop agent help?
It is crucial that you work with your crop agent to make decisions on all the different choices to make, such as coverage level, index intervals, irrigated practice, productivity factor, and the number of acres you wish to insure (as you don't have to insure all of them). Then, you and your Crop Agent should look over the Grid ID Locator map and index grids for your area to determine where to assign acreage on the grid or grids.
Where can you find more information on Pasture, Rangeland, Forage?
The best resource we offer is PRFadvisors.com or AgRiskadvisors.com. In both these places, you will be able to find a plethora of information, explainer videos, and contact forms to get ahold of an AgRisk agent if you prefer talking to an expert in the field!
Be sure to follow our social profiles!
View all News & Event