Meat Producers Appreciation Day Part 2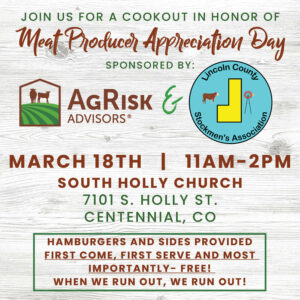 What can you do to show appreciation for our Colorado meat producers?
Buy meat! Whether it is at your local grocery store or ordering a burger at a restaurant, your purchases of meat-based products is a great way to show your support for meat producers.
Get to know your local producers. Farmer's markets provide a great opportunity to meet ranchers in your area as well as provide an opportunity to buy directly from the source. Farmers and ranchers each have a story and a reason why they farm or ranch, the best way to find out what those are is to ask them directly.
Share your story! If you or your family has a background in raising livestock let others know. Colorado has a long history in the beef industry specifically, but as the population grows, fewer people have a direct tie to agriculture. The best person to tell our stories is us. Transparency and an open dialog can help those who don't know about or understand the industry gain a greater understanding from those who have firsthand experience.
Contact your local and state representatives. Legislation can have a significant impact on producers in the state, so it is important that our government officials understand the implications that different policies could have on the production of meat and food products here in Colorado.
More than Colorado. Although we are celebrating meat producers in Colorado this week. The United States is one of the top producers of agricultural products in the world. Our economy is highly dependent on the success of commodities and showing support for this industry allows for the whole country to thrive.
AgRisk Advisors is proud to support meat producers and will be partnering with Lincoln Stock Growers this Friday (March 18), to provide hamburgers to those in the Centennial area. Please see our social media platforms for more information.
The following link is a great resource for individuals to find local ranchers and meat producers. You can buy your meat locally and have it shipped right to your house! Colorado Beef Check-off has provided a list of local producers so that you can easily find producers that are in your area. Link
Local Beef Directory (cobeef.com)
We'll see you on Friday!
And remember we are…
With you…no matter the weather.
Be sure to follow our social profiles!
View all News & Event