Meat Producers Appreciation Day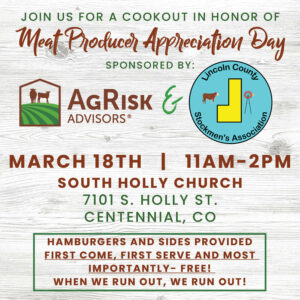 Colorado has been a cattle ranching state since the 1800s. Cowboys started moving cattle into western Colorado from Texas. The abundance of grass and grazing space was ideal for cattle raising. The cattle industry in Colorado quickly became the iron horse of Colorado's economy. The United States livestock industry contributes just under $900 Billion to the U.S. economy. In 2020, the state of Colorado alone contributed $7.3 Billion to the total U.S. Gross Domestic Product. One may conclude that Colorado's Livestock industry is a driving force for the state's economic well-being, which is one of the reasons for Meat Producers Appreciation Day. With Colorado's long history in beef production, Colorado residents have been supportive of meat producers throughout the state.
In 2021, the governor of Colorado proclaimed a "Meat Out" day to encourage Coloradans to experience a plant-based diet. The purpose of this proclamation was to incentivize support to the vegetarian and vegan communities throughout Colorado. Conversely, there was no proclamation in support of meat production, leading Colorado's communities to take action. Thus, sparking the creation of Meat Producers Appreciation Day. Many groups and organizations throughout Denver and all over the state of Colorado have come together to support their local producers by eating or buying more meat.
What you can do!
There are a few options to support the meat producer's appreciation movement, and we are here to help! One of these first things you can do is to conduct a google search and to find local producers to buy your meat from. Another option is visiting a meat or farmers market and get to know the people who help feed America. Later this week, in the next edition of this blog, we will be providing you with local operations and their contact information for you to locally source your meat. Look at this like you would look at shopping at a small business. Helping and supporting local farmers and ranchers is another opportunity to support small business and your local economy!
And remember we are…
With you…no matter the weather.
Be sure to follow our social profiles!
View all News & Event